November 14, 2017
On or about Friday, Nov. 17 at 8 p.m. through Saturday, Nov. 18 at 6 a.m., lane closures, detours and 20-minute stoppages will occur on the westbound Dulles Toll Road (DTR) and Dulles International Airport Access Highway (DIAAH), and on the eastbound Dulles Greenway to allow Dulles Corridor Metrorail Project crews to continue pedestrian bridge construction that will provide access over the highways to the Silver Line's Reston Town Center and Ashburn Metrorail Stations. See details below.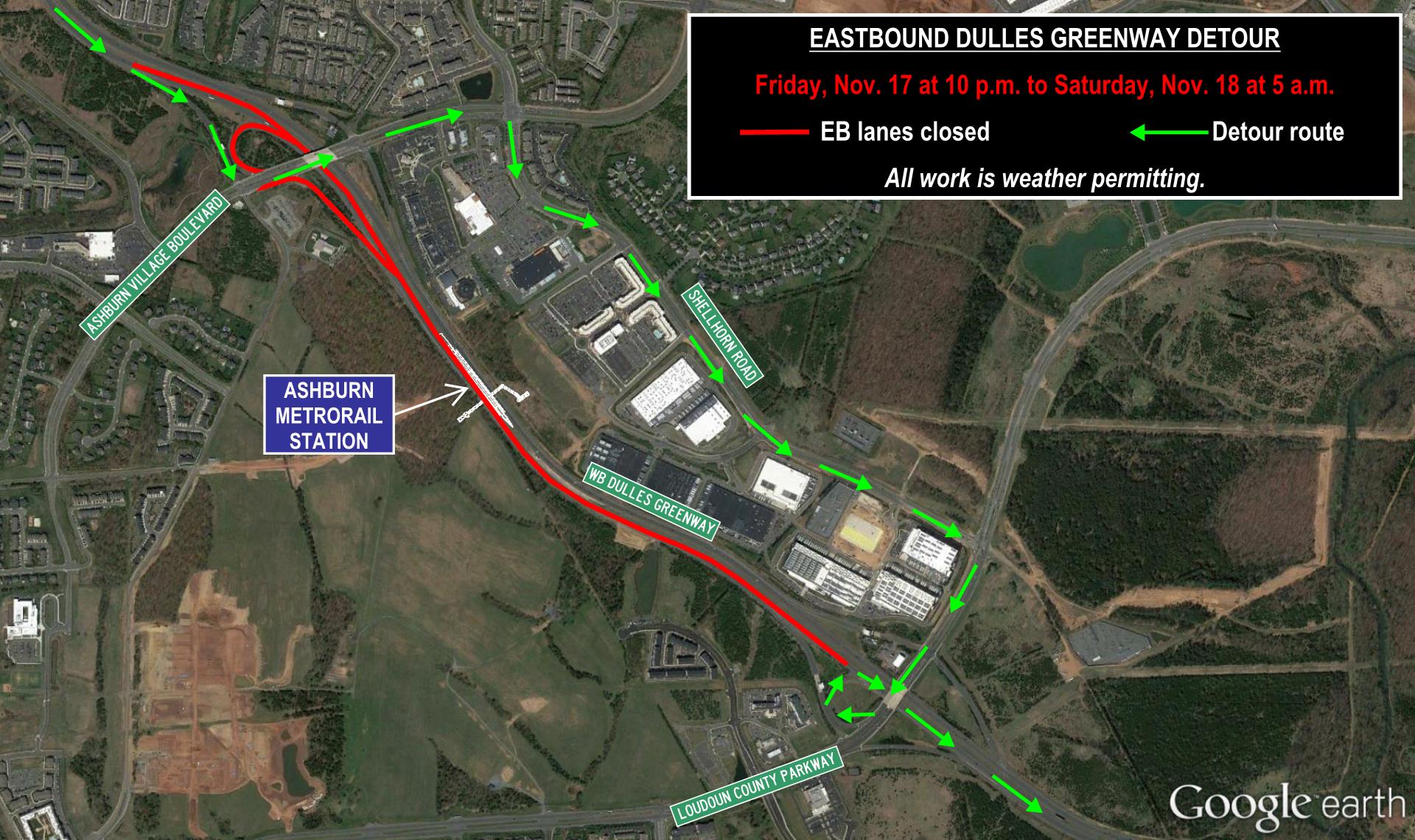 EASTBOUND DULLES GREENWAY:  Friday, Nov. 17, 10 p.m. to Saturday, Nov. 18, 5 a.m.
The eastbound Dulles Greenway will be closed between Ashburn Village Boulevard and the Loudoun County Parkway (see Figure 1).
Traffic will be detoured to northbound Ashburn Village Boulevard, eastbound Shellhorn Road, and the southbound Loudoun County Parkway to return to the Dulles Greenway. 
All work is weather dependent and subject to change.
Information about additional detours will be forthcoming as the work progresses through November and in the upcoming months.
Drivers are asked to use caution and pay attention to all signage and barricades. Large, slow-moving vehicles may be exiting and entering the highway at various times.
<><><><><>
A 24/7 emergency hotline is available for Dulles Corridor Metrorail Project construction-related issues: 844-385-7245. For general project information: www.dullesmetro.com or 703-572-0506.